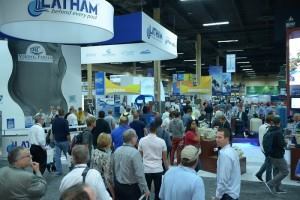 The allure of Las Vegas is undeniable and many conventions come to this desert city every year. For a long time, the International Pool | Spa | Patio Expo was among them, then last year it headed to Orlando, Fla.
But … it's b-a-c-k! The conference is slated for Nov. 7-12 and the Expo is Nov. 10-12 in the convention center at Mandalay Bay Hotel & Casino. Still, some are curious why the show keeps returning to Vegas. "Las Vegas is the No. 1 trade-show destination in the world," Tracy Garcia, CEM, explains, "so it's a great location for the International Pool | Spa | Patio Expo."
The show director at Informa Exhibitions U.S. of Irving, Texas, adds, "With the size of this show, the number of facilities that can accommodate it is limited, but thankfully, Las Vegas can — and both attendees and exhibitors rate Las Vegas high as a preferred location in post-show surveys."
She expects the numbers to be in line with last year and predicts around 11,500 registrants, 550 exhibiting companies with 1,400 booths in a 140,000-square-foot exhibit hall for the 2015 event.
A mobile app will be available to make showgoers' experience easier. Garcia says the PSP Expo Mobile App will "provide you with the most up-to-date information and allow you to search for exhibitors, sessions and speakers. It can be downloaded by searching 'PSP' in the Apple App Store and Google Play."
On the education front, there will be 67 classes divided into specific tracks and programs, including offerings by Genesis and certification courses by the National Swimming Pool Foundation, National Plasterers Council, American Shotcrete Association, and Association of Pool & Spa Professionals.
Garcia calls the PSP Expo the leading trade show and educational conference for all segments of the pool, spa and outdoor living industry — residential and commercial.
"If you build, design, sell, service, repair, operate or manage pools, spas and outdoor living related products, you can't miss the show," she says.
HIGHLIGHTS
ACTIVITIES -
Welcome Party: Gather with old and new industry friends and unwind on Tuesday, Nov. 10, 5:30-7:30 p.m., at LIGHT Nightclub in Mandalay Bay. With its state-of-the-art visual effects and world-renowned DJs in charge of the music, it promises to be a fun soiree. Enjoy hors d'oeuvres, wine, beer and soda. Advance registration required; free for conference registrants; $60 for Expo-only registrants.
Treasure Quest: This is a fun way to make sure you visit lots of exhibitors — and maybe even win the $2,000 cash prize. Get a game card at on-site registration, or download the mobile app. Visit participating exhibitors to get a jewel stamp, or mobile app code. Complete the map, and you're entered to win. While out on your quest, stop by the Product Showcase for a first look at new products.
Pool Prize Party: Once again, this event occurs in the exhibit hall on the last day at 1 p.m. With their name badge, each registered attendee receives a raffle ticket that is entered for a shot at winning a collection of industry-related prizes. More tickets are available at participating booths.
PAVILIONS -
Check out these specialty pavilions in the exhibit hall.
Commercial Pavilion: Organizers say the focus this year is on the commercial and casual furniture sectors. So this pavilion, which is larger for 2015, is a must-see. Discover what the exhibitors have in the way of commercial products and services — and check out the daily educational sessions in the adjacent Commercial Education Classroom.
Casual Furniture Marketplace: At this new pavilion, you'll find all the latest casual and outdoor/exterior furniture. It makes it easy for you to see a wide range of quality merchandise that can help you diversify your inventory and keep sales up in the coming 12 months, says show director Tracy Garcia.
Outdoor Living Pavilion: Formerly called the Backyard Living Pavilion, its name was changed to reflect a focus on products for residential as well as commercial settings, Garcia explains. The latest outdoor products can be found here; new and returning exhibitors can be a great source of fresh ideas and merchandise.
Genesis Pavilion: Stop by to enjoy a variety of networking and educational opportunities offered by the Genesis Lifestyle Program. Take in wine-tasting and book-signing events. Learn about design, business and engineering classes.
APSP Pavilion: The Association of Pool & Spa Professionals will again provide a networking members' lounge.
SHOW FLOOR EDUCATION -
Splash Talks: In these "casual learning areas" on the show floor, you'll find quick, 15- to 20-minute facilitated discussions on hot topics. As of press time, topics on social media and outdoor kitchens were confirmed, with more details coming soon. Visitors also are welcome to stop by and network with colleagues, or relax and charge their mobile devices.
Hayward Business School: Located next to the Hayward booth, these small-group training sessions are led by executive-level professionals to hone students' business acumen so they can increase the effectiveness and productivity of their companies. Each class is 45 minutes long, with a 15-minute Q&A session afterward.
Houzz: This online resource, where homeowners interested in remodeling projects for house and yard connect with design professionals, is offering in-booth seminars. Also, experts will be available to assist with Houzz's free business tools.