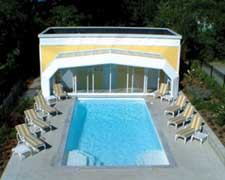 It wasn't so long ago that people referred to fiberglass pools as giant tubs, pointing to the lips that often stuck out of the ground.
Today, creative contractors have found a variety of ways to beautify these pools. Design extras include cantilever coping, raised bond beams with sheet waterfalls, deck-mounted laminar streams and heavy rock waterfeatures.
"A lot of times, people come in and don't know the options and upgrades that are available," says Clint Peterson, general manager at Viking Pools of Sacramento in California. "They also don't know they can be added in the future, as long as you do water stub-ups."
The following pages showcase a number of fiberglass pools. These projects prove that this category can be used in any backyard design, including elegant traditional looks and sweet naturescapes.
Aqua Glass Pools Inc.
Beninati Pools
DreamBuilders Enterprises
Pool Works
Premier Fiberglass
San Juan Fiberglass Pools of Canada
Viking Pools of Sacramento
We're Your Pool Service Co.