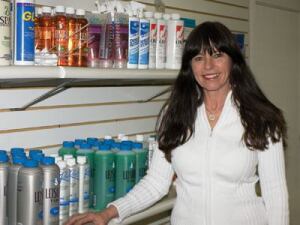 "Jacuzzi Julie" is a bit of a local celebrity in Aspen, Colo. The co-owner of Ajax Pool & Spa, Juliet "Julie" Phelps, is known as much for her charity work as for her successful retail and pool service/repair business. (And, yes, she's a Jacuzzi Spa dealer.)
"I don't want to brag about it," Phelps said of her charity work. "It's something you do from your heart. ... I like to help vets, children, the disabled, and do things for my community."
She assists many groups, such as Challenge Aspen, which provides recreational and cultural experiences for people with physical or cognitive disabilities, including a program for injured military personnel. "They bring legless vets to Aspen and teach them [to ski or ride snowmobiles]," Phelps said. "They're feeling down when they arrive, and it's life-changing. It costs $2,000 to bring one vet, so I set aside $200 from each spa I sell." That can add up to $8,000 in annual donations.
For other nonprofits, she might donate products for fund-raising giveaways. "You don't have to give a lot of money," Phelps added. "Just find out how to help."
For example, she also buys a year's worth of radio spots to promote various local charities. When Crystal River Elementary School needed a playground, her call for volunteers to help build one did the trick.
So how did this big-hearted entrepreneur come to the pool and spa industry? As the daughter of a Minnesota pool builder, Phelps was well aware of the trade. She started selling spas in the '70s. Later, her family moved to Florida, where she met her future husband when he began working for her dad.
In 1984, Patrick and Julie Phelps moved to Aspen, where they had honeymooned. He was hired by the local pool company; she got her real estate license. In 1993, they started Ajax Pool & Spa. Recently, they relocated to a 5,000-square-foot store in nearby Basalt.
Phelps' altruistic nature naturally extends to customers. Folks know what to do with their homes, but have "not a clue about their backyards. I see it as a blank canvas." And she has plenty of ideas for that canvas: Integrate the living quarters with the yard, adding an outdoor kitchen, hearth, spa. "I'm always looking for trends," she said. "I'll call my new place the Backyard Design Center. We'll have a man cave [with] a Jacuzzi 415, and a Ladies' Spa Room. Don't we all need that?"
Sounds as if the Aspen area is in good hands.