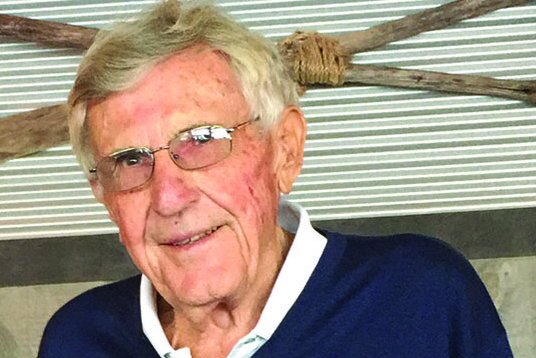 The pool and spa industry has lost another pioneer. Al Stocking, founder of Litehouse Pools & Spas, succumbed to cancer on Dec. 31, 2016. He was 88.
"I know we were all saddened to hear about his death," said Ted Lawrence, corporate retail category manager at PoolCorp.
For nearly six years, Lawrence served under Stocking as director of distribution at Litehouse. Lawrence called Stocking a trailblazer and icon in the industry's world brick-and-mortar retail segment. "Al was well respected by customers and vendors, and was mentor to many of his employees," Lawrence said. "I'm proud to have worked for him and the organization that he built."
Leigh Alfred "Al" Stocking Jr. of Naples, Fla., found his way into the pool and spa industry through a somewhat circuitous route. After majoring in economics at DePauw University in Indiana, and later earning an MBA from Indiana University, he entered the business world. Stocking purchased a home-delivery bleach business in 1955 and operated it from his residence in Brook Park, Ohio. That business later became Litehouse Pools & Spas, now a building/retail/service firm based in the Cleveland suburb of Strongsville, Ohio.
In the early days, Litehouse sold pools and supplies, later branching out into portable spas, toys and accessories, patio furniture, billiard tables and even Christmas trees. Today, Litehouse has 15 stores throughout northeast Ohio and Erie, Pa.
Stocking took to the role of business owner, as witnessed firsthand by Rich Frindt, current regional manager for PoolCorp in the Cleveland area. He worked with Stocking for 20 years as vice president of Litehouse. The company founder could be "a very demanding individual for what he expected," Frindt acknowledged. But he also could be very understanding and was known for his integrity and honesty.
As busy as his company kept him, Stocking had many outside interests. He loved to golf, fish and go boating. He also was an insatiable reader and history buff, so it's not surprising that Stocking traveled around the world after he had retired. Last summer, though his health was failing, he was able get in one last tour of Europe with his wife Bev's family.
Looking back over the life of this tireless pool/spa professional, perhaps Chris Curcie, current president of Litehouse, summed it up best. "Al will be forever remembered in the industry as an honest, fair, hard-working and direct businessman," Curcie noted. "Al was an old-school man of his word who would do a deal on a handshake. He would live up to his promises, and he expected the same of the people he did business with."
Besides his wife Bev, Stocking is survived by two daughters, Sue Colbourne and husband Jamie, and Jan O'Connell and husband Jack; stepchildren Tim Newcombe and wife Sharon, Candy Watkins, Peter Newcomb and wife Kelly; and many grandchildren and great-grandchildren. He was preceded in death by previous spouses Florence and Carol; son Michael; and brother Charles.