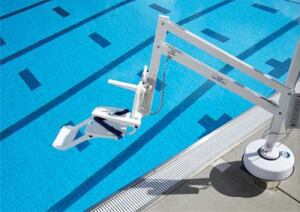 With only weeks to go before the compliance deadline, inquiries about the Americans with Disabilities Act are just starting to trickle in from aquatics facilities, industry professionals report.
Still, there isn't as much activity as would be expected this close to the target date of March 15.
In 2010, the U.S. Department of Justice finalized the Standards for Accessible Design, which, among other things, specified the access needed for pools and spas. Most public pools must have a sloped entry or lift, and those measuring more than 300 perimeter feet need a second means of access. Spas must have a lift, transfer wall or transfer system. And facility managers are discouraged from using the same mechanism twice. Lifts are expected to be the most popular choice because of their lower cost and lack of intrusion to the pool structure and surrounding deck.
While the deadline for new pools and spas was last year, the approaching date applies to existing facilities. Some don't see that as a hard and fast rule, however, because the standards state that certain facilities could pass muster with a documented plan showing how the retrofits would take place over time.
After a year with few inquiries, managers of some facilities, particularly hotels and motels, are beginning to approach pool professionals. But not many are past the bid stage.
"We've had people call us and say, 'Are we or are we not in compliance? We own 50 sites. Can you give us a price?'" said Mitch Friedlander, CEO/president of American Pool Enterprises in Owings Mills, Md. "We'll price it, and all of a sudden now we hear crickets."
When the ADA standards originally were finalized, some professionals likened it to the Virginia Graeme Baker Pool and Spa Safety Act, with its requirement that all commercial pools and spas undergo retrofits for entrapment prevention. But unlike VGB, there hasn't been a rush to meet the deadline.
Many believe this springs from the lack of an enforcement mechanism. The justice department doesn't plan to conduct inspections or become involved unless complaints or lawsuits are filed, though states and municipalities have the option of enforcing it voluntarily.
"It's almost like an honor system, and with the properties going through the economy we've just experienced, I think they're dragging their feet," Friedlander said.
In addition, many facilities still are feeling the frustration of VGB, with its urgent deadlines, product recall and sudden changes in requirements. So few are in a hurry to embrace yet another regulation.
"Everybody is frustrated," said Alison Osinski, president of Aquatic Consulting Services in San Diego. "They're asking, 'Is this going to change again?' I'm hearing that they have no money in the budget, and they're still complaining about VGB issues."
What's more, price-shopping property owners reportedly are attempting to purchase lifts directly from manufacturers or distributors, or via the Internet. Service and construction firms then may be asked merely to install the lifts, or be forced to sell them near cost.
"If we could turn around and sell the lifts for [a decent profit], life is good and sign me up," said Javier Payan, president of Payan Pool Service in El Cajon, Calif. "But I think the margins are going to be tight. And with the insight that we gained from the VGB days, why would you want to sign up for that?"