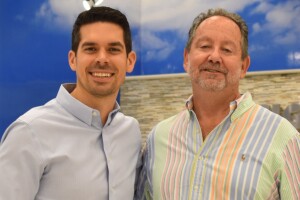 Another holding company has entered the pool/spa industry by acquiring a decades-old builder.
Garden City, a two-year old firm headquartered in Atlanta, has purchased Miramar, Fla.-based builder Essig Pools.
The contractor, which frequently appears on PSN's annual Top 50 Builders list, was founded in 1981 by Dan Essig. It reported a 2020 total revenue of $10.66 million and ranked 47th among the Top 50.
Dan Essig will remain with the company in an advisory role for the foreseeable future, said Michael Arrieta, founder and CEO of Garden City. The builder's general manager and 30-plus-year employee, Ed Rodriguez, will oversee the day-to-day operations. The company also will remain a member of United Aqua Group, Arrieta said.
The holding company boasts some high-profile investors, including former Florida Governor Jeb Bush and football players Tim Tebow and Drew Brees. Bush is well positioned to help Essig meet one of its goals — to significantly increase its business on the commercial construction side of the market.
"He has many strategic alliances and relationships with the largest commercial builders in south Florida," Arrieta said.
He added that famous businesspeople who serve on Garden City's board of advisors also will help its portfolio companies grow. These include former Under Secretary of State and CEO of DocuSign Keith Krach, former Equifax CEO Richard Smith, former Boeing CEO Dennis Muilenberg, former CEO of Popeyes and KFC Cheryl Bachelder, Costco and HP board director Maggie Wilderotter.
He sees Ritz Carlton Founder Horst Schulze helping elevate customer service for Essig Pools, and Intel CEO Pat Gelsinger providing guidance on technology.
Under the new owner, Essig Pools also will work to increase its exposure in the ultra-high-end market.
"Our goal right now is to build Essig Pools to be truly the best pool company in Florida," he added.
After that, it plans to grow "a family of the best pool companies in Florida," the company said.
Garden City acquires companies across many industries, generally located in the Southeast and Central regions of the U.S. It takes a particular interest in stepping up the technologies and strengthening the cultures of the companies it purchases, said Arrieta, who worked for a decade in the San Francisco Bay area in the tech industry.
"We want to be the Chick-fil-A of the pool industry, where all our workers feel like heroes," he said. "We're an employee-first company committed to creating a culture where our workers thrive."
The firm is actively seeking pool and spa builders, in response to the sales surge brought about by the COVID pandemic. Arrieta expects that trend to continue.
"People are working from home, they're sitting on a lot of cash, home equity values are going up, they're refinancing," he said. "I think people are going to build more pools than ever over the next five years."
In its search, Garden City is considering companies that are at least seven years old, have strong management teams already in place, and earn yearly net profits of at least $2 million. More often, it prefers sellers with plans to retire.
It plans to keep the companies indefinitely, Arrieta said, rather than flipping them in the typical three-to-seven-year window seen among private-equity firms.
Garden City owns companies in a number of industries, including mental health facilities and technology services.