"I built my very first vanishing-edge pool in 1983. I had a yard that was sloped up in the back, and I wasn't thinking of it from the standpoint of a vanishing edge. I put a catch pool down at the house level since the pool wasn't going to be visible from the house. It was really designed like a waterfeature. It only looked like it was vanishing when you were on top. I kind of just stumbled on it that way. "I put a skimmer in the catch pool, but fortunately, I had it on a separate valve so that it could be disabled because of the wild fluctuations of the water level. That was about the only mistake that I made that I wouldn't have done today."
- Lew Akins, Ocean Quest Pools by Lew Akins, Holland, Texas
---
"Hydrotherapy, in combination with home swimming pools, and for therapy alone, is destined to become almost a way of life for the tired businessman and the aggravated housewife who, each year, have more buttons to push and more psychological problems to face. "Perhaps the harassed businessman, home from a rugged day at the office, will relax for 20 minutes in a hydrotherapy pool in lieu of, or in addition to, his usual martini. More important, in the future they are destined to be an adjunct to the master bath in the newly constructed home."
- The late Bill Baker, then president, Swimquip Inc., El Monte, Calif., speaking in 1963
---
"We did have a pool in Bel Air that Mr. [Pascal] Paddock built in the late-'20s or early-'30s for some big wheel in the movie industry. "It had a big island in the middle, and the pool was 100-and-something feet in diameter. So it was a huge thing on a big estate. We would always talk about that when we all got together. That was an outlandish thing."
- H. Vance Baker, Paddock employee, 1945-'55; founder, Catalina Pools, La Mesa, Calif.
---
"It was a slow, hard process to introduce spas to the industry. The gunite people felt it was infringing on their business.... [We] had to develop dealers that would sell spas by themselves because the swimming pool industry didn't adopt them very quickly. "Initially, it was also a slow process to sell shoppers on the idea of owning a spa. We were selling to a different market then. It was considered a family item in the early days, although later it turned out to be an item for swingers. Notorious people were notorious for going into the spas without any clothes."
- Chuck Barbara, Charles S. Barbara & Associates, Huntington Beach, Calif.
---
"In the earlier years [of water labs], we came across a thing called the Victor calculator. We programmed a memory chip and sold the calculator to pool retailers, and it would print out a register tape [with the water analysis] and they would literally paste the tape on a form. "When computers came out, we looked into the field and came up with the idea for in-store water analysis."
- Larry Bloom, BioLab Inc., Decatur, Ga.
---
"When we were experimenting with acrylic, we didn't know that it would turn out to have as big an impact as it turned out to have. We originally manufactured acrylic diving-board stands, but noticed all the problems people were having with the fiberglass spas — and knew we could solve some of those problems. "We got our first acrylic sheets from Swedcast Acrylics, which was supplying copper-colored acrylic for the people-mover cars at the new Dallas-Fort Worth airport. Shortly after that, the company supplied us with acrylic sheets in blue, blue-and-white marble, and black-and-white marble — so the acrylic spas were available in only those colors."
- Bernie Burba, Baja Products Ltd., Tucson, Ariz.
---
"I was selling ionization units for swimming pools in South Africa in 1973. We were a door-to-door sales organization. We didn't have the service industry at that time like there is now. Consumers were asking us for something to ease the chore of cleaning the pool. "There was one gentleman in South Africa who had invented a suction-side cleaner, but it was bulky and had a lot of moving parts. We wanted to keep it simple. The more bells and whistles, the more problems you will get. [Cleaners have] certainly changed the way [service techs] do business."
- Danny Chauvier, Kreepy Krauly USA, Sunrise, Fla.
---
"When I first started, it was just a summer job. We had so many covers we had to produce a week and we had flexible hours. There were only four people working. I was picking up garbage and running to get supplies — whatever was needed. I was one of the only non-family members working there, and I often played the role of the mediator." - Rick Clark, Cover-Pools Inc., Salt Lake City
---
"The lip of the spa is a tough environment for controls due to all the humidity and contact with chemically treated water. We were able to design a product that could survive in that environment — and be electronically and electrically safe for the users. "Once we figured out how to ensure the reliability of the product, we explored how to interface that with the solid-state electronics in a way that would be useful and acceptable for the spa industry."
- David Cline, Balboa Instruments Inc., Costa Mesa, Calif.
---
"In his course of study, [Hary Last] researched Joe Lamb's designs. What Harry did was make a cable-compensate system instead of a clutch system. Actually, there were some patents back in the 1930s that were similar to Joe's designs. I've seen them — I've held them in my hands. "In the late-'80s, Last changed from electric to hydraulics. That was a market-driven decision, not a corporate decision. Once the industry saw how reliable they were, that was the choice they made. They were willing to pay for it."
- Tom Dankel, AquaMatic Cover Systems, Gilroy, Calif.
---
"Many had attempted to make an automatic cleaner, but they were focused on Arneson's technology and their patents were so strong. We had been working on one with a different principle. It was a surface-floating device that had sweep hoses that stirred up water for filtration. "I met Dr. Mel Henken, who had developed his own cleaner. It was made of wood, door screen and Coke cans — a home garage prototype. We felt his technology was better than ours and signed a deal with him. We then became Arneson's competitor. I remember Arneson wore white hats to this trade show once, so we all wore black hats."
- Jim Edmiston, former president Swimrite Inc. and Polaris Pools Systems Inc., San Marcos, Calif.
---
"In the 1970s, when [company founder Len Gordon] was with Riviera Spas, he drove into a gas station that had [hydraulic] tubing across the driveway that sent a pulse of air to ring a bell when a car drove up. "As he drove over the tubing, it not only rang a bell for the attendant, it also rang a bell in his head. He thought, 'If you can do that to ring a bell, you can sit in a spa and press a button to push air through tubing to operate the equipment.'"
- Judee Gordon, Len Gordon Co., Las Vegas
---
"We had a huge bunch of [consumers] who'd just finished the war, and they wanted to have the good life. This [package pool] was a blue-collar pool. That was the big appeal. Everybody could have one of these — it only sold for $2,500 or $3,000, installed. "We started [selling through] Spiegel. That's how we got going with the wood pool, in '57 or '58. In the old days, they were kind of a small Sears. Spiegel flew their team out to watch us put a pool together in one day. And they were so excited about it, they thought they'd sell 1,800 units. They sold 58. Hey, 58 pools was a lot in those days. They kept us in the catalog for two years. They gave it a fair shot."
- Ed Gorman, the founder of Cascade Industries, who is considered the father of the package-pool industry
---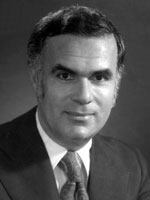 "You'd be surprised ... but we can put a 20-foot pool in one box. This package includes the pool, the wall, the liner, the ladder, the filter, even a foot bath. "Now you can get a hernia moving the damn thing, but nevertheless, it is in a box, and the salesgirl doesn't have to know anything about filters, chemicals or pools. A customer comes in, and he can get a pool easily. All the salesgirl has to do is point and say, 'Buy that carton.'"
- Arnold G. Greenberg, Coleco Industries Inc., Hartford, Conn.; as reported in Pool News in 1970.
---
"Originally, Jon and Jeff Watkins thought 'If we can make a hot tub that is a stand-alone unit and is insulated enough to be efficient to operate, we would have something.' At that time, the wooden hot tubs operated like the inground ones. You had to crank the heat up and the energy costs were expensive. "The Watkins product was different in appearance and in manufacturing. Most products were made out of gelcoat fiberglass. We jumped over acrylic and went to a one-piece, vacuum-form thermoplastic. In the early days, the product was very unorthodox looking, if not unattractive."
- Steve Hammock, Watkins Mfg. Corp., Vista, Calif.
---
"I bought my first aboveground pool in 1956. There was no filtration system, so I developed an economical system that turned out to be a complete package. All the customers had to provide was the water to fill the pool and the electricity to plug the system into. "Later on, we printed a booklet on how to operate the swimming pool because there wasn't anything like it around — it was a Q&A-style book with a comic book cover on it."
- Marty Hoffinger, Hoffinger Industries, Rancho Cucamonga, Calif.
---
"After I sold my first whirlpool bath, we kept expanding the idea to meet the demand for larger and larger tubs, which operated beyond the capacity of the hot-water heaters. Soon, people wanted to take those larger tubs outside. "There wasn't a standard type of distribution for the initial product, which we finally sold through specialty dealers. We had to develop the spa market; the biggest problem was getting the product out and explaining how it could be used."
- Roy Jacuzzi, Jacuzzi Whirlpool Bath, Walnut Creek, Calif.
---
"California Cooperage helped to nationally promote hot tubs. Cliff Branch was a wizard of getting onto national TV talk shows. He became an industry spokesperson. I remember him filming programs on "Good Morning America," sitting in the hot tub with the hosts. "The art of building hot tubs is ages old. The design goes back to the 15th century, when they held together wooden vats with ropes and things. What has changed over the years is that the clear, all-heart, old-growth redwood used to make the wood tanks is in short supply. Now, we have second-growth wood and it doesn't have the tannic acid and the decay resistance. So we ... [in 1988] introduced a lined, insulated tub that retained all the benefits of the all-wood tubs."
- Bill Jaworski, Great Northern Engineering, Minneapolis
---
"Originally, [the test kits] were for industrial and medical applications. One of the early indicators was used in the Jonas Salk vaccine for polio. When the color went from yellow to red, or red to yellow, it meant the vaccine had gone bad. We even had one test to confirm death. It was in one of our archives. It said, 'If the test is red, the body is dead.' It was a tissue test. "In the early-'20s, LaMotte started getting interested in the pool business — with combination kits. But it was mostly public health officials interested in them. There weren't a lot of [pool] service guys in those days."
- Richard LaMotte, LaMotte Chemical Co., Chestertown, Md.
---
"With the advent of DPD, we looked to become the first company to offer something other than the tablet. We could now differentiate between free chlorine and total chlorine. However, it was primarily for industrial water companies. "The original founders sold the company to the production manager (John Lambrecht). He was more in tune with recreational activity and realized that any place where water got used, testing was necessary. The formulas have gone through some minor changes. We constantly tried to improve the stability factor."
- Tom Metzbower, Taylor Technologies, Sparks, Md.
---
"Just as door-to-door vacuum cleaner salesmen proved the worth of their product by throwing dirt on the carpet and quickly cleaning it up, dealers could easily prove the value of spa covers. Everyone had a problem keeping dirt out of the spas, the covers provided an easy solution. "In the beginning, people would put sheets of plywood, tarpaulins or floating blankets made of closed-cell polyethylene on their spas to keep the dirt out and some of the heat in. ... Our covers included a sewn encasement over a seal-expanded polystryrene core, which is the same style that is in use today."
- Dick Moore, Sunstar Enterprises, San Marcos, Calif.
---
"As I look back, we tried to bring a sense of professionalism to the business. Water testing was anything but professional when I first got into it. I actually had one [service tech] ask if I could rig the [test strip] so it would always show the pool needed chlorine. That's the type of thing I ran into when I first got into the business. But, there were also some true professionals. "We wanted them to check [the water] more frequently. The industry matured, and people came around and that was kind of fun to watch."
- Robert F. Myers, Miles/Environmental Test Systems Inc., Elkhard, Ind.
---
"There has been a pretty constant evolutionary improvement in the size, shape and quality of the materials used to provide the aboveground pool industry with a viable product. "In the early days, it was a bit rough and tumble, with many companies rising and falling quickly, but that has cleaned up very well. The industry has become even more reputable. Both manufacturers and dealers have worked together to provide consumers with a wonderful and fun product."
- Dave L. Nelson, Hoffinger Industries, Rancho Cucamonga, Calif.
---
"The pools that were built before [gunite was developed] were just a pool here, a pool there. It wasn't as large an aspect of the contracting business. We did sandblasting, contracting, tool rental ... and also pools and pool supplies. "The only thing I remember specifically [from stories from company co-founder Theodore Creswell Pulliam, his grandfather,] is that it was back-breaking. Anybody who's ever had a shovel full of wet cement could understand. You would stack a pool — pour cement in the bottom of the hole and throw it up on the wall of the pool. It was just incredibly hard work."
- Barry Pulliam, Pulliam Aquatech Pools, Fort Worth, Texas
---
"We first started out making steel doll carriages. However, Nathan Muskin saw abovegrounds as a family product for the future. He very quickly stopped making the carriages and put his knowledge of steel and fabrication into making swimming pools for the residential market. "In the beginning, the pools were rudimentary products that would hold a body of water, while retaining a constant shape. Customers didn't want that 'Silly Putty' look in their backyards. They were bought by the average, blue-collar family. Nowadays, the audience has broadened considerably and the product has become more upscale."
- Dick Raffaelli, Muskin Leisure Products Inc., Wilkes-Barre, Pa.
---
"My father owned a construction company. ... They'd use a mule to excavate. It pulled a large scoop with two handles on it, and a man would ... walk along behind the mule with the scoop. If he picked the handles up, the blade would go in the ground to dig. [When he'd] put pressure on the handles, the blade would come up. When he got a full bucket, he would almost lay on the blade to keep it up off the ground. "You'd better be good at it, because you had to start laying the handles down to get the blade in a position of cutting an inch or two of material. And if, for some reason, the blade got caught up in a rock, where do you think your face ended up? In the back of the mule."
- Al Rizzo, Rizzo Construction Pool Co., Newington, Conn.
---
"I know that 20 to 30 years ago, I used to hear remarks from real estate brokers that if you had a pool in your house, it lessened the salability by 80 percent. They rated it as an absolute negative. "Ten to 15 years ago, they would tell people it was worth 50 percent of what they put into it, and it lessened marketability by 40 to 60 percent. In the last five to 10 years, if you talk to real estate people, pools are an absolute must."
- John Romano, All American Pools & Spas Inc. Norwalk, Conn.
---
"We had a total effort towards acquiring builders and installers to install our product and then make it as simple as possible for them, so that it became an almost error-proof installation. They came from all kinds of industries — from other mechanical trades, some from within the pool industry itself, airline pilots — from all over. Even school teachers in their off-season were building pools one at a time, and then it became a full-time activity for them. "... It was interesting every day of the week, because you could actually formulate a business the way you thought that it should go and build it from scratch."
- Joe Schmerler, Major Pool Equipment Corp., 1971-'72; later with J.S. Associates, Cliffside Park, N.J.
---
"I was in the landscape business, and I had a lot of people who wanted pools. You go where the market is, isn't that what you do? Oscar Hammerstein was a landscape customer of mine, and Pearl Buck and all those theatrical people, and they all wanted pools, so I was the guy who did it. "Hand-packed concrete was the simplest way to build a pool. I was building lily ponds in the landscape business, and it was easy to do. We made it deeper, that's all. The biggest challenge was growing — finding enough capital and finding good people to work. ... We trained farmers and coal miners, auto mechanics — anybody who wanted to work with their hands, we would teach them to build a pool."
- Herman Silverman, founder, Sylvan Pools
---
"My dad had a pool built with an automatic cover. He couldn't get it off, and the pool builder had gone out of business. He told me I had to figure the thing out. I looked in the Yellow Pages, and it was Joe Lamb who came out to service it. So, I started working for him. My dad needed a new pool cover, so I had to work off the cost of the cover, which was $300. "I was actually one of three employees who started in the automatic pool cover business with Joe in 1971. He was flamboyant. Joe had less to do with mechanics than he did with the promotion."
- Lanny Smith, Coverstar Inc., Provo, Utah
---
"The way the concept came around for [San Juan Product's founders] was that there was a barbecue that was going to be held and a cement pool was being constructed. ... Because of rain delays, they weren't finished with the pool [in time]. Instead of having the party at the pool site, [they went out on] a new fiberglass boat. This was back in '58, when fiberglass boats started to first be made. "While they were fishing, they were griping about the fact that their pool wasn't completed and that it only took two weeks to order the boat and have it shipped. They jokingly said, 'Well, we should just take this boat ... and sink it in the backyard, and then we could be swimming.'"
- Kirk Sullivan, San Juan Products, Lakeland, Fla.
---
"We started with an amazingly small amount of money — less than $50,000, and got the value out of every penny. We had to make up for the lack of capital with hard work and innovation. In retrospect, I am glad that happened. We grew more slowly because we didn't have a lot of resources. We developed all the basic technology ourselves; we had to develop our molds, the tools and the processes. "When we started, we only had one size and one color — black — and one jet because that's all we could afford to put in.... Within a few years, we had a multitude of colors, more sizes and up to four jets."
- Tom Thornbury, Softub Inc., Chatsworth, Calif.
---
"My dad worked for Anthony Pools in the early-'60s, until 1970, when he got offered a position in Las Vegas with an Anthony franchise called Tropicana Pools. "I'm sure my father would be amazed at where it's come the last [few] years. He would be amazed at the vanishing edges and the different types of products available, deck or plaster products.
"I don't think he ever saw a vanishing-edge pool. He'd be in awe of something like that. A pool's a pool, but you can do much more with it. When my dad sold them, they were pretty much cookie-cutter types."
- Russ Watters, Watters Aquatech Pools & Spas, Las Vegas
---
"Paddock Pools stood for quality. At one time, in the 1950s and '60s, most of the competent people in the industry had worked for and were trained by Paddock. It was a hallmark... "In the old days, on the big estates, they used to put the pool way down in the corner, away from the main residence. If they wanted to go swim, they would go swim. As estates got smaller, the pool moved up into the living area much more.
"When they moved into the house, they didn't want just a rectangle, a box. They wanted something that looked attractive, that they could landscape around."
- Allan Weir, Paddock Pool Equipment Co. employee, 1948-'53
---
"Aqua Vac was started by Paul Myers, a retired printer who simply intended to eliminate his chore of manually cleaning his own swimming pool. ... "The really neat thing about Mr. Myer's Aqua Vac and the Aqua Vac of today is that his original patent still plays an important role in the current product line."
- Tom Willhite, Aqua Vac Systems Inc., West Palm Beach, Fla.
---
"Years ago [in the 1980s], we were a mom-and-pop industry, but not anymore. It's all huge conglomerates. I think what will happen now is the industry will be forced to step up and the manufacturer will assume the advertising role. The pool business will finally be treated as a business and not a construction trade." - Corinne Zemla, PoolSaver Inc., Walnut, Calif.