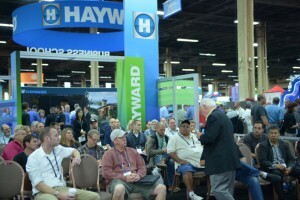 The 2014 International Pool I Spa I Patio Expo is set to feature opportunities to both celebrate industry excellence, and develop new talent, with a variety of special events and activities.
The Association of Pool & Spa Professionals will host The International Awards of Excellence at the Welcome Party, and events including the WAVE Young Professionals Network Events, The Hot Tub Open Meeting, Coffee with Carvin, and the Big Dogs' Celebration, will both honor and develop the professional skills and talents in the industry.
Attendees of the 2014 International Pool I Spa I Patio Expo will also find opportunities to develop new skills and relationships through the Genesis 3 Design-Build-Landscape Pavilion, the Genesis 3 Lifestyle Program, new seminars in the show's conference program and an incredible evening networking event, the Family Reunion & Wine Maker Dinner.
For full show information visit www.PoolSpaPatio.com, and register now to receive a FREE Expo Pass and 10 percent off a Super Pass or Day Pass conference option.