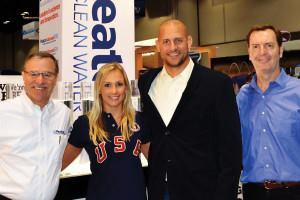 A sponsorship deal between Pleatco, LLC, and USA Synchro's Synchronized Swimming National Team has been renewed for the second year. The manufacturer of pool and spa filtration products sees the deal as a means to meet a need in the industry-related sport.
"Unlike athletes from many competitive nations, USA Synchro athletes receive no government funding," said Kevin Warner, CEO of USA Synchro. "The funds it takes to train, compete and win at the highest amateur level comes from their own pockets or the goodwill of key sponsors like Pleatco."
The arrangement also fulfills part of Pleatco's mission, said Howard Smith, CEO of the Glen Cove, N.Y. company: "Giving back to the community is a deeply held value at Pleatco — it's in our DNA. We consider it our responsibility to make a positive impact in the industry and communities we serve." USA Synchro serves as the national governing body for synchronized swimming.