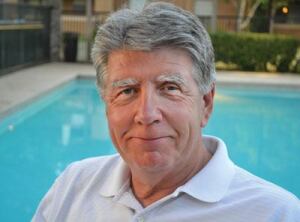 It could be argued that every pool builder is an inventor of sorts, designing a new creation to suit each homeowner.
But Mike Geremia is officially an inventor in the more traditional sense: He dreamed up a product that previously didn't exist but will soon be in mass production.
The president of Geremia Pools in Sacramento, Calif. has developed a new fan designed for apartments and condominiums. Last summer he entered into a licensing agreement with a world-wide distributor.
With a civil engineering degree from California State University, Sacramento, Geremia had tried his hand at inventing before, but this project has gone the furthest. "This was just ... coming across an idea that seemed to have a potential market," he says.
The seeds for the concept were planted when he purchased a whole-house fan. These units are installed near the center of the home, typically in a hallway or similar area. It pulls the hot air up, through the attic, and out the attic vents. With this motion, cool air is drawn inside through the home windows. "It kind of clears your attic space of the hot air that's built up during the daytime and fills it with cool evening air," Geremia says.
After having one in his own home, Geremia was sold on the concept. "As I talked to other people about it, someone told told me that they lived in an apartment and couldn't have one. I thought that's a shame." And the idea for his first invention was born.
But developing the technology took time. Geremia approached a local engineering firm, but he had to sell them on the idea. In researching potential demand, he found that approximately 34 million apartments and 6 million condominiums were ripe for an alternative cooling system — in this case, one that could pay for itself fairly quickly when used instead of air conditioning.
"All the pieces were in place for the project to be successful," Geremia says.
Though he and the engineering firm didn't agree on terms, Geremia was encouraged by the mere interest. He then worked with another expert who helped develop the ducting inside the fan so it would generate the maximum flow from each rotation.
Many apartments and condos have sliding patio doors, so Geremia adapted his fan to work with this feature. "My fan exhausts air out of the sliding patio door, and you open up a window in a bedroom or another part of the house to replace [the hot air]," he says. "You can still use your patio door. The fan only takes up 8 inches of space."
To make his invention fit into a narrow space, Geremia's product is similar to a tower fan, with long, thin blades that move differently than the more common rotary types. Unlike conventional window fans, it creates a complete seal so it can move more air. "I can turn over the air out of a condominium in less than five minutes," he says.
To help him run his pool company and move the invention forward, Geremia enlisted the help of his son, Michael Jr., who has a master's degree from San Diego State in entrepreneurial business. He handles marketing and development and coordinates with the manufacturer. "I made him an offer: You come into this project, I'll make you a 50-percent partner," Geremia says. "He came in and put money into it as well as oodles of time."
After hiring something of a "product hunter" and attending the National Hardwares Show in Chicago, the Geremias finally found an interested manufacturer. Called Resource Partners Enterprise, a subsidiary of Suarez Corp., the group has agreements to sell in such major chain stores as ACE Hardware. The fan is expected to be released next year.
While this isn't the first product the senior Geremia has invented, it was the most practical and, therefore, has gotten further than others. He has high hopes. "It wasn't necessarily my retirement plan, but it might just take care of that," he says — only half jokingly.
---
Clearing the air
Whole-house fans use about 10 percent of the electricity of a similarly sized air conditioner, according to the California Energy Commission.
These products work best in early morning and after sundown, when the outside temperature is below 80 degrees. Then the fan can draw in cool night air to chase away the heat that's accummulated in the house and attic. If the home has been closed up and needs cooling, experts recommend cycling the whole-house fan on high for a little while to remove the hot air before turning on central air conditioning.
While it is generally believed that these fans work best when humidity is low, Geremia's research has shown that they still are effective in high-humidity areas where the evenings remain warm.