Vinyl pool liners have been an industry staple for decades. Thousands of patterns are created and produced, and behind each one is a designer with a story. While builders focus on customers, liner designers strive to make products people want in their backyards.
Liner design can be particularly challenging because there's a simultaneous need to create something fresh that will also stand the test of time. The fact that it will be covered by water is also a major factor when it comes to selecting colorways and patterns. Designers must have their fingers on the pulse of color and texture trends, and search for inspiration wherever they go.
PSN sat down with the people responsible for liners as we know them. Each interviewee is either an exclusive liner designer or works very heavily to commission and create proprietary designs for their firm.
Stephanie Hill,
Creative Designer,
Canadian General Tower
Stephanie Hill has always taken an interest in patterns and textiles. She came to her career in pool-liner design at CGT armed with a degree in studio art and an advanced diploma in graphic design.
Still new to the industry — with three years of liner design under her belt — Hill says it's been a big learning curve, but one she enjoys. When searching for inspiration, her heaviest influence comes from interior design, textiles and printmaking. But, as a lover of swimming, she also likes to think of the sensory experience of someone in a pool and the feeling of being in water.
Hill also likes to get lots of feedback from dealers who sell her product.
Favorite pattern: McDuff
This pattern (above) was created for McEwen Industries and began as a simple pencil drawing. It was one of the first designs Hill did as a made-to-order. She remembers it fondly because she enjoyed the close collaboration with the customer.
Favorite thing about the job:
"What I really love is knowing that someone is enjoying something I created in their backyard every day."
Laura Stewart, Designer at H2Okay! Under Continental
Laura Stewart is relatively new to the vinyl-liner design scene, but fits right in as a student and veteran in industrial and product design. At H2Okay! she developed an interest in pools and has worked on liners for two years.
Stewart enjoys the creative freedom pool design allows with a variety of patterns, textures and colors.
Her creative process begins with research. She looks at fashion and other broad design trends, attends industry events, and asks customers what they want.
Inspiration can also come from things she sees in everyday life, such as moss on a hike or traditional architecture.
Favorite pattern: Neptune
This newly launched design (above) depicts marble tile with blue accents and marks the firm's first gray pattern. While looking at old Greek architecture in Athens, Stewart was inspired by a marble temple. She wanted to bring an attention to detail reminiscent of those earlier times. The pattern offers a clean, modern twist on traditional tile.
Favorite thing about the job:
"I love the variety of it — being able to travel, get other people's opinions, do trend research. For me, it's the whole process. I can see a project from beginning to end."
Roman Laufer, Director of Design at i2M
Visual arts has always been a passion for Roman Laufer. He went to school for advertising and graphic design, and has painted and illustrated his entire life.
His career began in wallpaper and flooring, where he developed patterns for hospitality and contract applications. After he worked with an engraver on pool designs, he eventually transitioned to vinyl liners.
Before jumping into a project, Laufer considers his customers. While designs need to be appealing, he says, they also must respond to marketplace demand and fall within manufacturing capabilities. This way fabricators can produce a liner efficiently.
To stay on top of design trends, Laufer looks at fashion, home interiors, and digital design trends.
Favorite pattern: Mountain Top Mosaic
This is the first design Laufer created for i2M when he started with them in 2010 (above). The name is a tribute to factory workers at i2M's facility in Mountain Top, Pa.
It's inspired by architectural structures. "We wanted to bring something to the pool that was simplistic, and create natural elements that the consumer would like to see," he says.
Favorite thing about the job:
"I enjoy working with my customers and colleagues. The stage I like best is when you're working with the customer and fine-tuning the colors."
Will Cappiello, Product Director for Vinyl Liners at Latham Pool Products
With a background in graphic design and marketing, Will Cappiello came to the pool industry after working in the office supply field.
From the time he accepted his position working with Latham in design, Cappiello has believed that it is very important to gain insight from both dealers and consumers. That's why he regularly holds a design panel to survey both camps, because the two can have different preferences.
When you're in the liner business, you're constantly thinking about ideas, Cappiello says. He looks for inspiration from the textile industry and is a big fan of using Pinterest. In fact, he says, that's where the customers are looking for designs these days.
Favorite pattern: Courtstone Natural Grey
The inspiration for this pattern (above) came from a backsplash at a Starbucks bathroom. Cappeiello was really impressed with the design and thought it would translate well to a pool liner.
Favorite thing about the job:
"Collaboration. We're fortunate enough to have some really strong designers, and it's a fun atmosphere to work in," Cappiello says.
LeeAnn Donaton-Pesta, President/CEO of Loop-Loc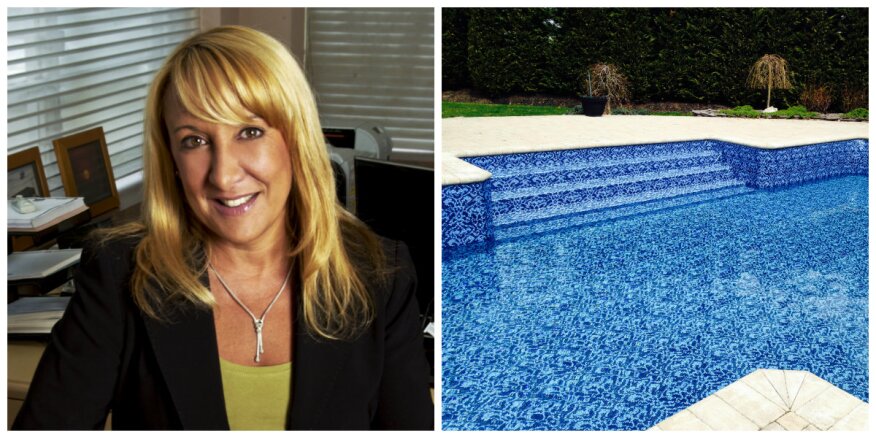 Before becoming a CEO, LeeAnn Donaton-Pesta worked in the fashion world. Just out of college she worked as a dress designer, and she spent some time in the bridal industry as a buyer.
When her father asked her to join Loop-Loc, she brought some of that experience with her. Donaton-Pesta started focusing on exclusive designs in the firm's second year of manufacturing liners because she felt some of the stock patterns were outdated.
She looks for inspiration everywhere, whether it's flipping through a magazine or examining a particular fabric. When working on exclusive designs, she does her research — looking at everything from trending colors, interior design and backyard décor, to a uniquely patterned tile.
Favorite pattern: Bella Vista
With this pattern (above), Donaton-Pesta wanted to show how a liner pattern can shine without a tile border. It won Loop-Loc's first of five first place Golden Cylinder Awards from the Gravure Association of the Americas.
Favorite thing about the job:
"I can express the creative side of me," Donaton-Pesta says.
David Rice, Operations Manager at Megna Pools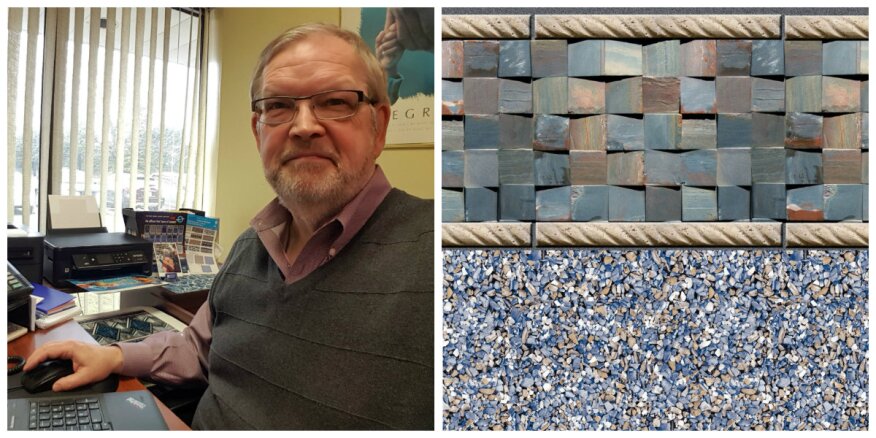 When Megna needed someone with an artistic eye, David Rice answered the call. He credits his early love of photography with giving him an eye for color and composition. He's been working with vendors on liner designs for 20 years.
Rice selects standard design offerings and also works with manufacturers to create customized patterns by changing colors or coming up with a new design.
It drives his wife crazy, he says, but he constantly uses his photographic eye to gain inspiration — looking at tiles on the street or in stores. A liner pattern has to look good from 6 feet to 60 feet away — that's something that's difficult to do, he explains.
Favorite pattern: Seaglass Sand
Megna considers this pattern (left) as a good example of using an existing pattern, but changing it up.
He added blue speckles to an existing brown sand pattern offered by the manufacturer, then paired it with one of the three-dimensional tiles in a unique colorway.
Favorite thing about the job:
"The creativity and working with various designers is a lot of fun," he says. "Picking the winning designs is really fulfilling."
Donald Cybalski, Designer at Plastics Films Corp. (PFC)
An industry veteran, Don Cybalski has been designing pool liners for 28 years. He studied art, design and textiles in college, even working for Gianni Versace in Italy. When he moved back to Canada, he found his way into pool design.
Cybalski remembers a time in 1990 when the patterns were very basic and design wasn't considered much in a commodity pool product. He thought the industry could do better, so he started focusing on design in his products. Some of his very early creations are still in circulation, he says.
For the past 12 years, he's worked exclusively with PFC to develop its designs. Everything on the firm's website comes from Cybalski.
Even after several years, he still looks for design inspiration everywhere — including checking retail stores, such as Home Goods, to see what's trending.
Favorite pattern: Bayview Slate
The main form featured in Bayview Slate (left) is based on a medallion Cybalski saw on an iron gate in New York. The smaller medallions and studs come from a ceramic tile and another gate he saw while out and about. The pattern can achieve a really nice metallic effect and dimension.
Favorite thing about the job:
"It's not work," he says. "I've been drawing ever since I was five years old. I get to do what I truly enjoy and call it work."
Thomas Kennedy, Marketing Director at Tara Mfg.
Thomas Kennedy has a degree in industrial design and worked in graphic design before stepping into a marketing role at Tara Mfg. He doesn't work from scratch, but collaborates closely with manufacturers to mix and match designs and ask for color changes. He also has helped create unique designs for Tara.
Kennedy gathers a group at the company to discuss what dealers are looking for and what they think is needed for the season. In the last couple years, he says, dealers have been asking for more gray patterns. Recently, after looking at the latest offerings in this hue, he suggested adding more blue so customers don't think the water will look gray.
In an industry that doesn't take huge design risks, a dark blue print on a blue film is always going to be popular, Kennedy says.
Favorite pattern: Paint Rock
Paint Rock (left) is one of five new patterns Tara added this year. It stands out for Kennedy because of its realistic-looking stacked stone tile across the top and gray pebble bottom with blue mixed in.
Favorite thing about the job:
"I really like to see what the new designs are each year and follow trends," he says. "Each step of the process — from concept to production — is really enjoyable."