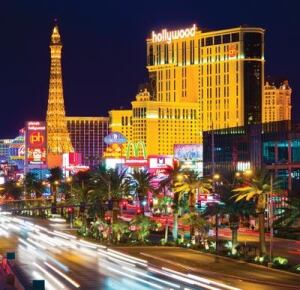 There are few cities in the United States that can boast the sheer number of casinos, shows, museums, restaurants, and shopping and entertainment venues in such a compact area as Las Vegas.
It's certainly the city for professional gatherings — more than 4.5 million people attended conventions in Las Vegas in 2009, according to the Las Vegas Convention and Visitors Authority.
Indeed, the pool and spa industry is headed for Vegas: The 2010 International Pool | Spa | Patio Expo is scheduled for Oct. 31 through Nov. 5, 2010, at the Mandalay Bay Convention Center.
As you plan for your trip through the exhibit halls, you also may want to plan to see some of the local sights during your downtime. But with so many choices, where do you go? We've asked some pool and spa professionals to name some of their favorite Las Vegas places. Their choices may inspire some of your own.
Rob Staples, vice president
Cimarron Circle Construction Co.
Tucson, Ariz.
Watch a football game in style
If you're a sports fan, you might want to consider watching football Vegas style. Rob Staples of Cimarron Circle Construction isn't a gambler or a traditional Las Vegas fan, though he occasionally goes with friends who love to gamble. "I do like to stay in the sports book area and watch the games," he admits. "It's especially good in September and October, with the football season in full swing."
If sitting in the sports book isn't your idea of a Vegas experience, Staples suggests renting a cabana by your hotel's pool because the weather in the high desert is still warm enough to swim at this time of year. "We order drinks and food, and hang out with friends while watching the games on the provided television," he says. "A couple of my buddies live in Scottsdale, Ariz., and I don't see them too often. It's a nice way to catch up."
Two to try: The cabanas at the Hard Rock Hotel and Casino (visit hardrockhotel.com ) and the cabanas at the Palms Casino Resort (palms.com ).
Scott Cohen, owner
The Green Scene
Northridge, Calif.
Have a really good steak
Las Vegas is known for its restaurants, and one of The Green Scene Scott Cohen's favorites is StripSteak, located in the Mandalay Bay. The restaurant, owned by award-winning chef Michael Mina, is a modern alternative to a traditional steakhouse. StripSteak offers three kinds of beef: certified angus, American kobe and A5 Japanese kobe. The restaurant is home to two wood-burning grills and six circulating, slow-poaching chambers.
But why would there be slow-poaching chambers at a steakhouse? "Oh, they belong there," Cohen says. "They poach their steaks in butter before cooking them. The restaurant also has an extensive collection of single-malt scotches, and the French fries are fried in duck fat so they're really rich." Cohen's favorite dessert is a pudding featuring 18-year-old Macallan scotch. Visit mandalaybay.com/dining/stripsteak for information and reservations.
Take a breather in the Bellagio Botanical Gardens
One of Cohen's favorite sites is the Conservatory and Botanical Gardens at the Bellagio. Fresh displays of foliage, interspersed with a small waterfeature, change with the seasons, cultivated from a 90,000-square-foot greenhouse located behind the hotel.
"When I saw it last, there was a plank walkway over a pond, with several small jets to form a water arch to walk underneath," Cohen says. "I found it so amusing to watch people douse themselves reaching out to touch the water that I watched the action for an hour." Visit bellagio.com/amenities/botanical-garden.aspx for information on the Botanical Gardens.
Chill at a cocktail lounge
If you like to bring the party with you, you can chill and sip some cool cocktails at the Minus5° Ice Bar, located in the Shoppes at Mandalay Place between the Mandalay Bay and Luxor hotels. "Everything is made of ice," Cohen notes.
The concept was created in New Zealand and, indeed, everything in the bar area is made of 100 percent pure Canadian ice: the bar, the seats, sculptures and even the glasses. The temperature remains a constant -5 degrees (27 degrees Fahrenheit) and customers are loaned a much-needed coat and gloves upon entering. For private functions, Minus5° ice sculptors can create anything from a corporate logo to exact-to-scale replicas. Visit minus5experience.com for more information.
Jim Alexander, owner/president
Renaissance Pools
Henderson, Nev.
Go jump in
Lake Mead is a huge wonderland of natural beauty. Lake Mead is 110 miles long when full and approximately 500 feet at its deepest. When filled to capacity, it has 28 million acre-feet of water — that's about two years' worth of water flow from the Colorado River. Jim Alexander of Renaissance Pools loves the many things to do at the lake. Visitors can explore desert wildlife and natural history exhibits at the Alan Bible Visitor Center, and outdoor activities include fishing, hiking, kayaking, biking, swimming, scuba diving, boating and guided tours.
"The carp are amazingly friendly," Alexander says. "Get close to where the water begins and they'll eat right out of your hands. There are so many, you can almost walk on top of them."
Visit nps.gov/lake/planyourvisit/things2do.htm for a list of things to do while at Lake Mead from the U.S. National Park Service.
View — and buy — classic cars
If you're a car aficionado, your place of choice in Las Vegas is The Auto Collections at the Imperial Palace hotel and casino. "They have some really unique stuff in there, and everything's available for purchase," Alexander says.
The Auto Collections is the world's largest and finest classic car showroom, with $100 million worth of inventory on display. You'll see everything from antique and classic cars, to custom hot rods and movie cars, to Indy 500 Race Cars and concept cars. (Here's a tip from Alexander: Check for hotel employees outside the casino, who often have tickets for a free entrance.) Visit imperialpalace.com or autocollections.com for more information.
Take a ride on a roller coaster
Alexander loves that there are several amusement park rides for adventurous souls on the Strip itself. Here are a few that you might want to try: Your inner adrenaline junkie will love the thrill rides found at the top of the Stratosphere Casino and Hotel's tower. There are four extreme rides to try: At Sky Jump, riders are prepped and suited up in custom jumpsuits to plummet 855 feet (108 floors) in the largest controlled free fall in the world. Insanity the Ride spins passengers in the open air 64 feet out over the edge of the Stratosphere Tower, at a height of more than 900 feet and speeds of up to three Gs. X-Scream, essentially a giant teeter-totter 866 feet above the ground, propels riders headfirst 27 feet over the edge of the tower. Big Shot shoots riders 160 feet in the air (for a total of 1,081 feet above the ground) at 45 miles per hour to overlook the Las Vegas Valley. (A tip: Get there while the desert winds are still calm; some rides may not operate during high winds.) Visit stratospherehotel.com for more information.
Circus Circus hosts an entire 5-acre theme park called The Adventuredome within its grounds. Different types of rides are available based on the age of the rider. Some featured rides include the new Special FX Theatre featuring SpongeBob SquarePants and Dora the Explorer, the Canyon Blaster roller coaster, the Rim Runner water chute ride, the Sand Pirate swinging ship, and the Lazer Blast laser tag adventure. More traditional rides, such as a Ferris wheel and a carousel, also are there. Visitors can buy individual ride tickets or all-day passes. Visit circuscircus.com for more information and passes.
The Roller Coaster ride is wrapped around the New York-New York Hotel & Casino, right on Las Vegas Boulevard. The roller coaster lifts riders up 203 feet, then drops them down 144 feet — all at a heart-pounding 67 miles per hour. The 180-degree turns simulate a jet fighter's barrel roll, and the coaster's "heartline" twist and dive creates negative G forces for a floating sensation. If you and your better half are speed jockeys, consider renewing your vows — or saying them the first time — on the roller coaster. (A tip: Get there early; the hours of operation are limited.) Visit nynyhotelcasino.com for more information and hours.
Jim Moss, owner
Hop Cassidy Pools Inc.
Scottsdale, Ariz.
Try your luck at Bellagio's blackjack
Though Jim Moss of Hop Cassidy Pools admits he isn't the biggest of Vegas fans, he also admits that he does have a favorite place for playing blackjack: the Bellagio.
Luck is a wily thing, and Moss notes that the blackjack tables at the European-inspired Bellagio casino seem to be the only place where the dealers give him money, instead of the other way around. "I really like to stay there when I'm in town," he says. "It's a wonderful place to be. They treat you like a guest there instead of just a meal ticket."
Visit bellagio.com for more information about the casino, and to check for room availability.
Myles Steimle, territory manager
California Pools
West Covina, Calif.
Stay between nature and downtown
When Myles Steimle of California Pools travels to Las Vegas, he likes to stay suspended between the beauty of nature and the beauty of the manmade glitter that is the Strip, and the Red Rock Hotel and Casino fills the bill.
Located near beautiful Red Rock Canyon, the Red Rock Hotel is approximately 10 miles west of the Las Vegas Strip, or about a 15-minute drive from McCarran International Airport. Views of both sights from the rooms are spectacular.
Red Rock's design is modern with a desert sensibility. Aside from the 87,000-square-foot casino, there are a lot of ways to stay entertained. The hotel has nine restaurants and a food court, a 16-screen movie theater, a 72-lane bowling venue, six bars and lounges, and a 35,000-square-foot spa. But the real scene stealer is Red Rock Hotel's 3-acre backyard, with a pool and beach area, cabanas and poolside gaming that includes swim-up blackjack tables. "It's off the Strip and away from crowds, so it's a little more romantic than feeling like you're right in the middle of party-goers," says Steimle. Visit redrocklasvegas.com for more information.
Cindi Blechschmidt, president/ owner
Aqua Spas & Pools
Gig Harbor, Wash.
Take a walk at the Bay
Yes, Mandalay Bay is the host hotel for The 2010 International Pool | Spa | Patio Expo, but it's much more than that, according to Cindi Blechschmidt of Aqua Spas & Pools. It's also her favorite stroll in the city.
"I truly loved the walk to the convention center for the show. There were lots of restaurants and window shopping, and it was a relaxing way to start the show," she says. The cobblestone-covered walk from a room to the convention center area takes you past fountains and restaurants such as Hubert Keller's Fleur de Lys, Charlie Palmer's Aureole and the Russian-inspired Red Square. "There's a lot to do just walking around," adds Blechschmidt. "The whole experience was really nice." For more information, visit mandalaybay.com .