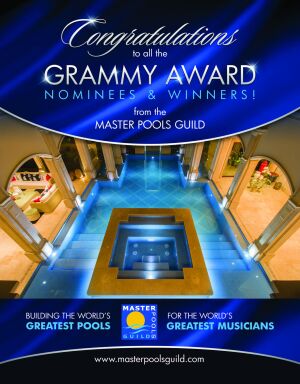 The Master Pools Guild has once again targeted high-end consumers by taking out an ad in the Grammy Awards program.
The organization first tried this strategy last year. In addition to getting in the hands of every Grammy attendee, the program will be made available in bookstores.
"Last year's edition was downloaded digitally over 4 million times — this is the statistic that has us excited," said Teri Wiltshire, special projects manager of the Richmond, Va.-based fraternity of pool builders. "So what a great opportunity to reach this audience."
Master Pools also will use this as an opportunity to inform its members how Twitter works during live events. On Feb. 9th, the group will hold an online training session on using the microblogging site, then will encourage members to follow and interact during the Grammy Awards.
"Last year's Grammy Awards generated over 20 million live tweets, so it will be fun to see and show the Guild membership how Twitter works during a live event on a large scale," Wiltshire said.