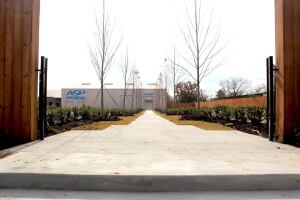 In the 13 years since Stewart Vernon started America's Swimming Pool Co., the business has grown exponentially.
Meeting that demand led the Macon, Ga.-based company to purchase a 2-acre property with 14,000 square feet of warehouse and office space adjacent to its current training facility. ASP closed on the property at the end of September.
"We immediately began a renovation and connection project," CEO Vernon said. "We're really trying to make the two properties feel as one."
The new digs will be connected to the existing ASP training facility by a walkway. The company's two outdoor training pools are between the buildings, which gives the campus a unified feel.
Last year, ASP opened its existing training facility, with two outdoor pools, two indoor pools and classroom space. At the time, Vernon said the company would need to expand more in the future, but the headquarters sat on 5 acres of land, ensuring ASP would have the ability to do so as needed.
With the new facility, ASP will offer franchise owners more classes with seven mini-indoor pools, plus two free-standing vinyl-liner pools above the ground for comprehensive training. The facility also will feature equipment from every major manufacturer plus swimming pool apparatuses, including slides, diving boards and handrails.
"The goal with the new indoor training center is that we'll have more problems simulated," Vernon said. "Everything from leaking shaft seal in a pump [and] 5 feet over might be a leaking chlorinator O-ring, and 5 or 10 feet over from there might be a leaking salt cell. We're trying to represent multiple issues that our franchise owners would face every day in the backyards of homes, as well as commercial simulation."
In addition to growing the training options, ASP also will add franchises in two new states this winter — Arkansas and Kansas — and add franchises in more than 20 new cities, bringing the brand to a total of more than 250 cities in 18 states.