Now that we're halfway into 2016, we thought it was time to take stock of which new products manufacturers have introduced so far. Brands continue to focus on innovation and improving the customer experience, and technology and the outdoor living trend play a large part as well.
In addition to the products covered above, there has been a wide variety of new and updated products highlighted in our "New Products" pages this year. In the technology category, there has been an emphasis on introducing and improving software and apps for both maintenance professionals and customers. Pumps, filters and maintenance equipment continue to evolve for ease of use and efficiency. More outdoor living products are introduced as this trend continues to be popular among consumers of all ages.
Technology
A Smart Move
The iQPump01 enables app control for Jandy variable-speed pumps. A mobile pump user interface allows pool professionals to install, set up and control the pump using a smartphone and the iAquaLink app. Built-in hotspot technology makes setup and programming simple, even without Internet access. Typically, iQPump01 installs in seconds, and the simplified onboard user interface allows the servicer to access several key features without a smartphone, including quick clean, time-out mode, countdown mode and more.
Contact: Zodiac Pool Systems Inc., (800) 822-7933; www.jandy.com
Instant Readings
Bosch's BLAZE GLM 20 is a pocket-sized laser measure that can pinpoint distances in seconds. Its features include a backlit screen and measurement of up to 65 feet and accuracy within +/- 1/8 inch. In addition, it's sized for convenience, fitting in a pocket or a tool belt for easy access.
Contact: Bosch Tools, (877) 267-2499; www.boschtools.com
Going Mobile
Pleatco launched PoolMate, a free mobile app designed to help service professionals stay organized in the field. PoolMate provides instant access to Pleatco part information, and allows users to create a database, set appointments, track jobs, find products, and more. It's available on iPhone, iPad, and Android.
Contact: 1-800-886-5160; www.pleatco.com
PRODUCT NEWS
Evosus has released a new version of its Business Management Software. Version 6.4 allows dealers to merge duplicate inventory items, add inventory items on the run and create Schedule Rules — based on day of week, technician, quadrant, route, task or product category. Back-office staff saves time with automatically recurring accounting transactions and mass printing/emailing capabilities. For more information, call (866) 235-5103, or visit www.evosus.com
PRODUCT NEWS
Pool Watch Software by Home Port Computer was developed for in-store water analysis. It maintains a customer database and recommends chemical doses for pools and spas. All industry chemical brand lines are within the software, which also integrates with popular POS systems. The Wave III scanner scans and analyzes the ScanMate 7 test strip, giving accurate test results in 15 seconds at a cost of about 15 cents. Tests for free chlorine, pH total alkalinity, total chlorine/bromine, total hardness and cyanuric acid.
For more information, call (866) 275-0547 or go to www.h2o-testing.com.
Pumps, Filters, and Maintenance
Socket to Us
Multi-Tork's Socket No. 9. Model MT-100H (Hybrid) is for the pool and the industrial filter industries. One end is a standard 3/4-inch hex socket, which captures the hex nut clamp on Hayward's C-3030 filter series. The other end is a dual-slotted socket. One slot captures most wing nut closure filter systems such as Harmsco, Solberg and others. The diametrically opposed slot captures any standard industrial filter V-clamp T-handle closure system.
Contact: Pwlshrk Inc./Multi-Tork Pool Tools, (888) 929-7818; www.multi-tork.com
On Guard
Card On Guard incorporates an all-natural, bacteria-inhibition technology made for pools and hot tubs. It is a flat, lightweight, unplugged solar cell that requires no electricity — only ambient light — to work. Enclosed in a frame and floating in the water, the solar cell replaces 50 percent of chemicals such as chlorine that are usually used, and often more, according to company officials. Using "enLIGHTen" light conversion technology, it captures, retains and re-emits light energy in the form of photons and magnifies that light energy to split some of the water molecules, which form low levels of free radicals to weaken and inhibit reproduction of bacteria and fungi.
Contact: Engeenuity, (317) 413-3865; www.cardonguard.com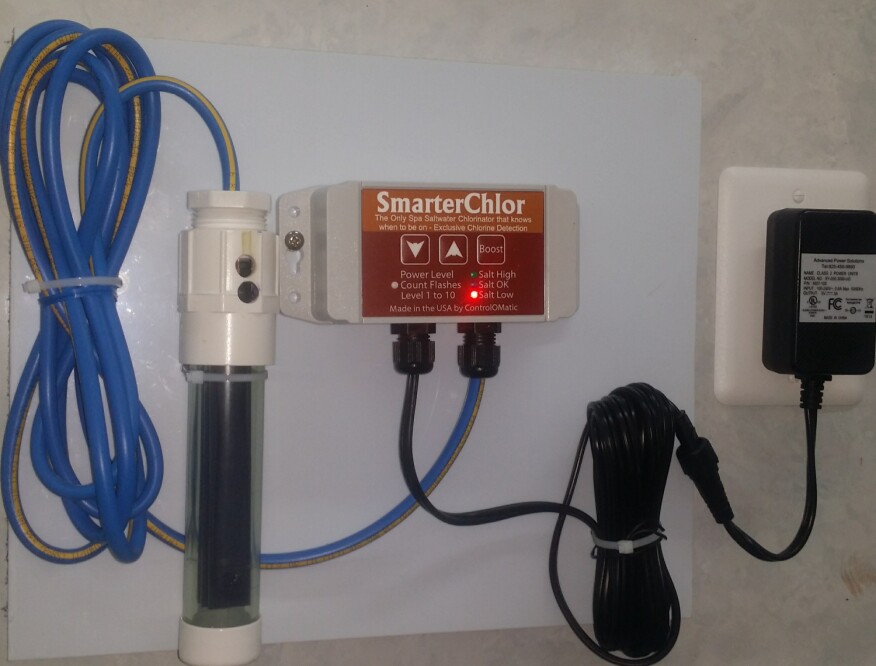 Sanitizer on Demand
The new SmarterChlor saltwater chlorine generator is designed with chlorine control right in the cell to help prevent overchlorination of spas and eliminate guesswork. Designed with chlorine-detection technology, the device knows when to turn on and how much of the sanitizer to produce before turning off. It then activates after detecting that the chlorine level needs a boost. Everything is built into the product, so it includes no moving parts, separate buttons, control boxes or timers.
Contact: ControlOMatic Inc., (530) 205-4520; www.controlomatic.com
Making It POP
Surface Magic is a biodegradable, non-toxic and non-foaming product that gathers surface debris such as leaves, pollen and grass clippings so it can be easily removed with a leaf net. To help promote the product, Jack's Magic now offers a point-of-purchase display with the headline, "Skim your time, not your pool." Before and after photos show the product in action to help convince consumers of its time-saving value. The display, which can be positioned on a counter or shelf, holds 24 bottles of Surface Magic.
Contact: Jack's Magic Products Inc., (727) 243-8650; www.jacksmagic.com
Getting Warmer
Jandy's Pro Series JXi Pool & Spa Heater introduced VersaFlo Integrated Bypass Technology. The flow bypass valve is automatic and requires no external plumbing modifications.
Contact: (800) 822-7933; www.jandy.com
PRODUCT NEWS
FLEXFLO has re-designed the pump head of A-100NA Peristaltic Metering Pump. Both the head and tubing have been modified for a more accurate feed. Tube assemblies now feature visible model numbers for easier ordering.
For more information: (714)-893-8529; www.blue-white.com
Outdoor Living
Backyard Beauty
MoistureShield composite decking is built to be attractive, yet is tough enough to be installed on the ground, in the ground or underwater. Homeowners can choose from the Vantage Collection, a high-performance reversible board, or the Pro Collection, a capped board with an added layer of protection and beauty. They also can complete their deck design with MoistureShield Deck Lights, Hidden Fasteners and Pro Aluminum Railing. It comes with a lifetime warranty.
Contact: MoistureShield, (866) 729-2378; www.moistureshield.com
That Rocks!
RicoRock now offers Veneer Stone for spa surrounds. The cast stone pieces are made of a denser concrete than most precast stone and can better withstand salt and chemicals, say company officials. The rock tiles can be used to veneer any concrete surface, and are available in 4-, 8- and 12-inch sizes in four different colors to match any spa or pool décor.
Contact: RicoRock, (888) 717-3100; www.ricorock.com
Culinary Creation
Rockler Woodworking and Hardware has created a DIY kit for those who'd like to design their own outdoor grill tools. The Grill Tools Hardware Kit includes a slotted spatula, gripping tongs and basting brush. Using the kit, customers can shape custom handles and then attach them to the hardware with either the included threaded inserts or epoxy. Hardware is made from food-grade steel, and the basting brush is made of heat-resistant silicone.
Contact: Rockler Woodworking and Hardware, (877) 762-5537; www.rockler.com
Inflatable Fun
GAME's new Derby Duck pool float is a 72-inch-long inflatable duck with a recessed seating area designed to comfortably seat multiple people. It's made with heavy-duty vinyl and has two built-in handles on its sides for passenger stability, and a convenient cup holder to keep drinks cool.
Contact: Great American Merchandise & Events, (888) 382-5988; www.derbyduckfun.com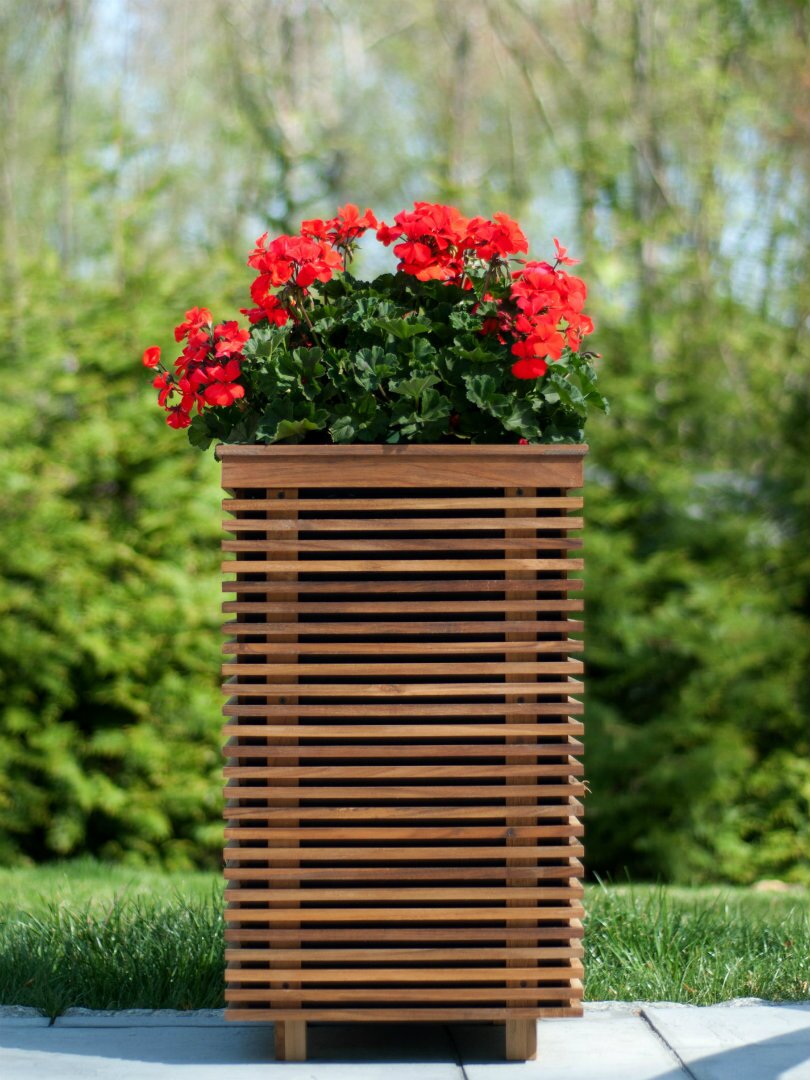 Beautiful Sound
PlanterSpeakers introduced the Flagston (poly resin) and Piermont (teak wood) planter speakers, a high-end outdoor sound system that doubles as design. Speakers are built into the planters, which can be used for read plants. Finishes can be customized and speakers can be configured to produce sound at 180 or 90 degrees. Both styles come in different sizes.
For more information: (914) 939-8500; www.planterspeakers.com
Spa
Truly Fit
The TruSwim Swim Spa has a patent-pending dual prop propulsion system designed to provide a wider, smoother swim lane and fitness area. With 4hp and 5,000 gpm, it is engineered to meet the demands of athletes, beginner fitness enthusiasts or therapeutic use. Comes in 15-, 17- and 19-foot dual zone models with a designer cabinet, underwater LED lighting, water spouts, pressure-side filtration, cabinet sconces and sound system.
Contact: TruSwim Swim Spas, (800) 451-1420; www.TruSwim.com
PRODUCT NEWS
The Dead Sea Mineral Spa Water Kit has been added to the hot tub product line of AquaFinesse, LLC. It contains a specially blended mix of Dead Sea salts and minerals for use in spas to leave skin soft and hydrated, along with two 2-liter bottles of the patented AquaFinesse water care solution. The package is integrated with a handle and wheels for easy portability. The new kit will include a free sample of the also-new AquaFinesse After-Spa Lotion with Dead Sea Minerals for a limited time. For more information, call (866) 574-2782; or go to www.aquafinesse.com.